Our Equipment
Our Horizontal Directional Drills (HDD)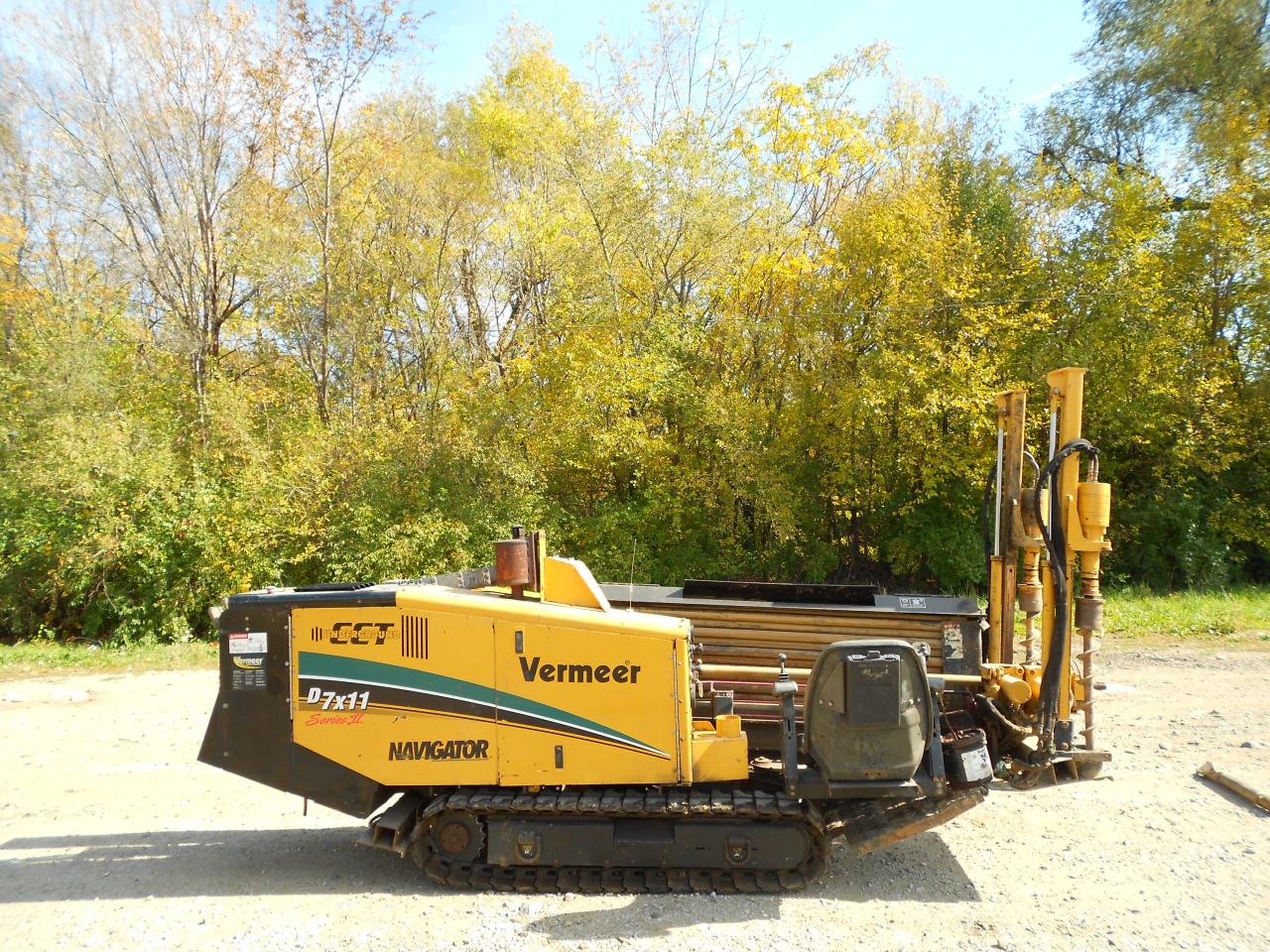 Directional drills like the Vermeer 7X11 are used for underground installation of pipes, conduit, and any product that a person wants to be placed underground. Product can be placed precisely where it needs to be at almost any desired depth.
Installing cables, pipes, or conduit/ducts utilizing Horizontal Directional Drilling allows for jobs to be completed faster, while maintaining the integrity of the premises. HDD is environmentally friendly, causing little to no disturbance to ponds, sidewalks, roadways and property as a whole.
THE VERMEER D7X11 SII HORIZONTAL DIRECTIONAL DRILL
The smallest of our directional drills are our two D7x11 SII setups. Its 35.3-inch width and on-board water tank makes this machine ideal for smaller jobs that require tighter access or setup area. It is equipped with 300 ft. of drill rod, as well as a variety of back reamer size and types, making easy work out of pulling back product up to 6-inches in diameter.
Thrust/pullback 7000 lbs
Torque 1100 ft-lbs
Minimum diameter 2.5"
VERMEER D10X15 S3 DIRECTIONAL DRILL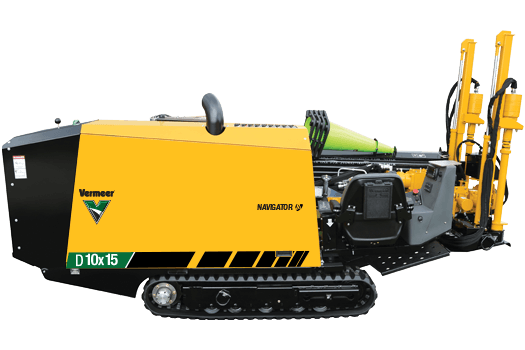 The D10x15 S3 Navigator® horizontal directional drill is a reliable solution for smaller service installations — built to help increase your productivity in order to go from one job to the next faster. With significant gains in horsepower and speed and a reduction in noise, the D10x15 S3 helps us to put more product in the ground in a shorter amount of time, all while minimizing disturbance to jobsite.
THE VERMEER D16X20 SII & D20X22 SII NAVIGATOR HORIZONTAL DIRECTIONAL DRILLS
These machine's powerful Kubota diesel engines on a compact frame allows us to complete the larger diameter bores in locations where limited space is a concern. They come with a rack containing 300 ft of bore rods with 500 ft back up supply to allow minimal set ups for maximum efficiency. They are also equipped with a variety of back reamers to pull back product up to 12" in diameter as well as the pioneer prospector rock hammer drilling system. All drills are equipped with the latest digitrak locating systems.
Thrust/pullback 20,000 lbs
Torque 2200 ft-lbs
Minimum diameter 3.5"
THE VERMEER D24X40 SII NAVIGATOR HORIZONTAL DIRECTIONAL DRILL
The 24x40 is said to be the most versatile machine in its class. With 24,000 lbs. of thrust/pullback power, 4000 ft.-lbs. of rotational torque, and its 125HP diesel engine this machine can power its way thru nearly any obstacle that crosses its path. This machine, partnered with a 1500 gallon water and mixing system, a 500 ft. rack of bore rods (and 500ft back up), and the Vermeer Armor drilling system, has the ability to breeze through the long shots with minimal set ups or complications. The 24x40 is accompanied by a variety of back reamers to pull back multiple types of product up to 18" in diameter. This machine is also compatible with our Pioneer One rock hammer drilling system which can cut through over 250' of hard rock such as blue granite in an 8 hour shift.
Thrust/pullback 24,000 lbs
Torque 4000 ft-lbs
Minimum diameter 3.5"
DigiTrak F2 Locating Equipment
This equipment is used to help locate underground pipes, conduit or anything that may be buried at a work site that our technicians are not aware of. The rods of the equipment are attached behind the drilling bit on the machines so that there is always knowledge of where the machine is actually drilling. The gauge is actually attached to the drilling rig to also help track where the bit is at all times

DigiTrak F5 Locating Equipment
The DigiTrak F5 has a 5 frequency capability to overcome passive and active interference. Two of the transmitters are dual frequency, allowing the drill operator to switch frequencies while the drill is still in the ground.
The Ditch Witch 255 SX Vibratory Plow and Boring Machine/The Ditch Witch Zahn Vibratory Plow with Boring attachment
The ditch witch equipment we use have the capability of plowing lines up to 12" in depth, as well as placement of PVC, underground lines, and conduit beneath obstacles such as sidewalks or driveways without disrupting the terrain. These machines are great for residential communication lines, construction maintenance in the telecommunication industry, as well as irrigation and many other services.
The Vermeer LM42
With the LM42 we have the ability to handle a variety of job types. With the highest horsepower in its class, it can provide more power to each of its attachments allowing it
to bore the largest of driveways, bury up to an 18" consistent depth, and the bucket attachment also lends a hand with any small excavation needs. Its compact size allows
us to maneuver it in areas as small as 45 inches making the small installation projects
a breeze.
Maximum HP 46HP
Maximum torque 96 ft-lb @ 1700 RPM
Maximum plow depth 18"
The Vermeer RTX 1250 Ride on Tractor
This is the largest of our vibratory plows burying up to a 42" consistent depth. It has the patent-pending quad track that distributes weight evenly for traction in virtually any soil conditions. With its 120 HP Cummins diesel engine it can reach 10.6 mph, making short of lengthy plow jobs. This also is equipt with the backhoe function to aid with any jobs excavating needs such as vault installation.
Maximum HP 120 HP
Maximum torque 350 ft-lbs
Maximum speed 10.6 mph
Plow depth 42"
Maximum digging depth 107"
Vermeer Hydro-Vac Systems
The hydro-vac systems are used to collect slurry mud behind directional drills, safely locating underground utility lines, vault installation, leaving the job as good as new after rehab is completed. It can also be used in performing industrial clean-up of man-holes, storm drain clean out, and have aided in the cleanup of natural disasters.
Model: E550
Manufacturer: Vermeer
Spoil Tank Capacity: 550 gal
Horsepower: 25 hp
Fuel: Gasoline
Displacement: 500 cfm
On Board Pressure Pump: 1,400 psi
Suction Hose Diameter: 3"
Empty Weight: 6,500 lb.
Dimensions: 19'6" x 7'7" x 8'2"
Pioneer One Directional Drill Air Hammer
Pioneer directional drilling air hammers are designed to bore through difficult rock formations using a combination of thrust, pressure and rotation to chip and carve rock for a hole. Also available is a variety of custom-designed bits to match various ground conditions.
Air Compressors
Our line of air compressors are used to blow and flush existing conduit as well as blowing fiber into new conduit as well. We also use our compressors as an intricate part in our rock drilling process.
Vehicles/Fleet
Our versatile fleet comes equipped with the state of the art water and mixing systems from 250 gallon to dual 750 gallon tanks. We also keep them stocked with all the necessary tools, equipment, and safety gear/devices necessary to complete the task at hand. All vehicles and drivers are IFTA and DOT compliant.
VERMEER SPX-25 Vibratory Plow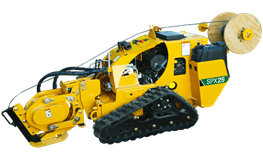 The SPX25 is operated with a full-function remote control that provides greater maneuverability in congested and tight jobsites.
A 25 hp Kohler gas engine provides ample power for both plowing small pipes and cables at greater depths, and boring underneath driveways and sidewalks.
A 25 hp Kohler gas engine provides ample power for both plowing small pipes and cables at greater depths, and boring underneath driveways and sidewalks.
A narrow width of 34.5 in (87.6 cm) and length of 81 in (205.7 cm) allows you to enter gated yards and install utilities in tight jobsites.
Decrease turf disturbance.
Dual rubber tracks with a ground pressure of 3.7 psi (.3 bar) minimize disturbance and restoration to the jobsite while tackling tough ground conditions.
This lightweight plow will also help save time with a 3.7 mph transport speed.